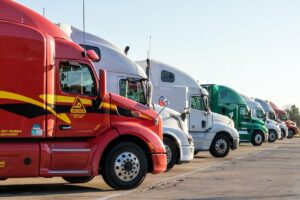 The main task of transportation companies is safe and reliable shipment. On the other hand, the key to the success of the companies is the combination of efficiency, quality service and digitalization. It is not easy to pay equal attention to all three aspects, but the market law imposes it.
The market is unpredictable, so sometimes we have more cargo than cargo space. It usually happens after incidents and as a result, freight prices rise, and carriers can choose orders. There are also times with excessive cargo space during which prices are falling, so smaller transport companies struggle to survive.
In today's blog, we will share 8 tips to help you deal with such oscillations and to secure your job by striving to become the "Carrier of Choice".
Here is the breakdown of the tips:
Digitalize your transport business
Deliver on-time
Offer safety
Maintain proactive attitude
Be notified about driving bans
Communicate clearly
Plan in advance
Maintain your business presence
Now, let's have a look at each of these bits of advice.
Digitalize your transport company
The fast-paced logistics world is becoming more networked and agile. Feel the pulse of time and take advantage of the possibilities of modern IT systems, which are constantly evolving. Such evolution creates many opportunities for your business since IT service providers simplify access to the digital world.
Deliver on time
On-time delivery is what your clients expect of you. However, even the most precise planning cannot foresee all events on the road. You can share real-time data about your position through digital tracking channels. This way you don't have to explain anything, and your partners will be ready for your arrival.
Guarantee safety
Take your time and make sure everything is properly packed before departure. Also, data protection and authenticity issues play a very important role in digital business relationships. Obtain necessary certificates for all areas and services relevant to you and your clients. This will guarantee the status of a service provider that sticks to the highest quality and safety standards.
Keep proactive attitude
Let's explain this with a practical example: You have equipped your fleet and now have excessive space. That means you should optimize capacity usage. Offer available cargo space to your partners, or market it on a cargo market.
Find information about driving bans
Avoid long traffic jams that lead to delays and frustrations for you and your clients. Find information about driving bans or unusual construction works. Consult your safety officer and dispatcher, listen to local radio stations.
Plan in advance
Empty rides are expensive and not environmentally friendly, so you need to plan your routes with care. The shortest route between the two stations is not necessarily the most efficient. You can take a second or third order and pick up additional partial loadings on the return tour, to make a clever route. Alternatively, you can plan routes by recalculating the costs for them.
Communicate clearly and be available
Communication is the basis of a good business relationship. Don't leave questions unanswered, give a prompt response. Systems such as DispatchPal have an integrated notification feature, status updates, scheduling and messaging service which can be very helpful.
Maintain your business presentation
One of the tools for online presentation is a company's website. However, maintaining a company webpage can take up a lot of time. For most of your partners, it is very important to have insight into relevant documents relating to licenses, certificates, insurance, industry application, etc. Do your best to prove your reliability and make a good impression from the beginning.
To become the first choice among transportation service providers, you need to integrate these tips into your daily work.
If you opt for DispatchPal TMS, you will have digital support at any time.
DispatchPal includes a range of applications and can be a great solution for small trucking businesses. Contact us via phone: 708.30.30.900 or here to get free two months trial.